Seeing a Clear Difference
LASIK Boston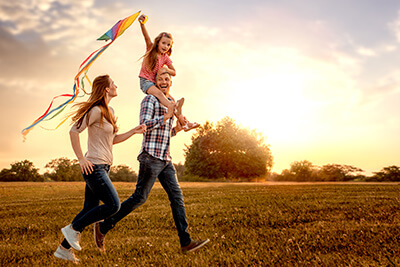 It is a common misconception that because PRK predates LASIK, it is the less effective procedure. In reality, PRK can be an excellent option for those who are not qualified to undergo LASIK. There are a few similarities in the way that these two procedures function to provide you with permanently improved vision, and of course, there are also differences that will dictate which is the best option for you.
The LASIK and PRK experts at New England Eye Center of Boston provide you with an individualized care plan that will optimize your vision correction and give you a chance to see the world more clearly. If you are interested in meeting with our doctors, please contact one of our Massachusetts offices to schedule your first consultation.
Understanding the Benefits
Both LASIK and PRK are safe and effective techniques to permanently improve vision in patients who experience near or farsightedness or astigmatism. Both procedures are virtually painless, with only a small number of patients who experience some short-lived post-operative discomfort. Serious complications are incredibly rare.
LASIK patients can expect a shorter recovery period and more immediate results; however, PRK does not require the creation of a corneal flap, making it the safer option for those who fall short of candidacy for LASIK.
Are You a Candidate?
Your candidacy for LASIK or PRK will be determined at our Boston office during your consultation and will depend on your individual case.
However, some of the qualifications for PRK include:
Mild to moderate near or farsightedness
Disqualification from LASIK due to career or leisure activity requirements
Disqualification from LASIK due to shape or thickness of cornea
Both PRK and LASIK candidates typically:
Are at least 18 years of age
Have had a stable vision prescription for at least a year
Have not experienced eye infection or injury in at least a year
Are not nursing or pregnant
Experience Excellent Results
Both LASIK and PRK patients may have the capacity to reach 20/20 vision or better, but each person's results are dependent on his or her individual case. The expectations you should set for your procedure will be discussed in detail with one of our doctors during your consultation.
Learn More about LASIK Surgery
LASIK and PRK can provide you with freedom from eyeglasses or contact lenses and dramatically improve your vision. With renewed self-assurance and a rejuvenated ability to see the world around you, taking life head-on will come easily to you. Our staff at New England Eye Center is always excited to bring new patients into our community and watch as better vision changes their lives. We have a huge number of opportunities for you to improve your ocular health, so we hope that you contact our Boston office soon to schedule your first appointment for LASIK or PRK.