Visian ICL®


The Visian ICL® is an Implantable Collamer Lens, also referred to by many as an "Implantable Contact Lens" and it works with the eye to correct vision. Unlike other lenses that are used for vision correction procedures, the collagen in Collomer, is biocompatible with the eye, meaning it is not seen as a foreign object to the body and is an excellent choice for a lens that may remain inside your eye for a lifetime. Unlike traditional contact lenses that are placed on the surface of the eye, the Visian ICL® is positioned inside the eye between the iris (which is the colored part if the eye) and the natural lens, where it can stay indefinitely. And because it is positioned between the iris and the lens, it is invisible to both the patient and any observer.
The Visian lens is also removable, which is an appealing feature to some patients adverse to the permanency of LASIK and PRK. Visian can be removed at any time if the patient so chooses. If for some reason your vision changes dramatically at any point, the lens can be removed from the eye. Another advantage of choosing the Visian lens is for those people who suffer from dry eye. For many people with dry eye, LASIK is not the best option. Until recently patients with dry eyes had only the choice of PRK, which is an excellent procedure, however, the recovery is slower than LASIK and some patients just do not care for the short amount of downtime from work and their personal lives. The Visian lens is an excellent option for patients who have dry eyes and want quick visual recovery.
The Visian lens does not cause or contribute to dry eyes and the Visian procedure is approximately a 15 minute surgery performed at our ambulatory surgery center and offers quick visual recovery or what is often referred to by LASIK patients as the "wow" factor.
PRK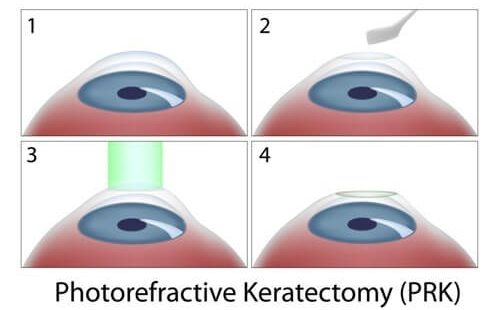 One of the most comprehensive procedures we provide is PRK, or photorefractive keratectomy. This surgery treats nearsightedness, farsightedness, and astigmatism. Although similar to LASIK surgery, PRK does not involve the creation of a corneal flap, so many of our patients who don't qualify for LASIK can undergo PRK with no problems. This procedure does involve a slightly longer recovery period, but the payoff of seeing more clearly than you have in years is priceless.