LASIK Eye Surgery in Boston, Brookline and Surrounding MA areas
Deciding on the vision correction procedure that is right for you will be one of the most important decisions you will make in a lifetime. At the New England Eye Center, our trained refractive team will discuss the many options available for your unique vision status, and help you compare the differences in relation to your visual and lifestyle needs. We give the Boston and surrounding areas premier laser eye surgery procedures that will take away the need for glasses and contacts. 
What is LASIK?
LASIK (laser-assisted in-situ keratomileusis) is the most popular and highly effective laser procedure used to correct nearsightedness, farsightedness, and astigmatism. It is a procedure that permanently changes the shape of the cornea, the clear covering of the front of the eye, using an excimer laser.
By reshaping the cornea, light is able to enter the eye and focus properly onto the retina. The surgery is a relatively pain-free procedure and takes approximately fifteen minutes per eye. During surgery, topical anesthetic drops are applied to the surface of the eye, and a lid holder is gently placed in the eye to keep you from blinking.
The surgeon will then use a laser to create a thin circular opening/flap, about the thickness of a strand of hair. Once this opening is created, the surgeon will proceed to fold back the flap to access the underlying cornea. Using a highly specialized cool beam excimer laser, the surgeon then removes a small amount of tissue to precisely reshape the cornea.
After reshaping the cornea, the flap is replaced and serves as a natural bandage. Most often both eyes are treated on the same day and there is little to no discomfort. Stitches are not needed and visual recovery is very quick. In as short as 24 hours, patients can enjoy clearer vision.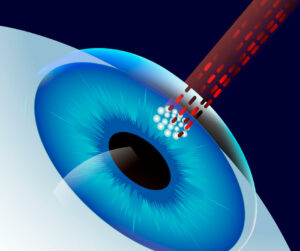 We offer a wide variety of services to suit everyone's needs:
PRK
LASIK
Laser vision correction
Refractive lens exchange
Laser Cataract Surgery with advanced lenses
CK for reading vision
Intacs for Keratoconus
Dry eye treatments
Dr. Helen Wu is a well-known LASIK surgeon that is respected in her field and often is chosen to pioneer sophisticated new lenses. Many cataract surgeons are not certified to offer a wide range of surgical techniques and premium lens offerings that Dr. Wu is able to utilize in her practice:
PanOptix® TriFocal Lens Implant 
Symfony and Symfony and other advanced Toric lenses for cataract surgery
Contoura® custom LASIK
Trulign™ Toric cataract surgery lens for astigmatism and ability to see near and far
Visian ICL® –implantable contact lens
To learn more about New England Eye Center and its services, you may also visit www.neec.com or call one of our vision care coordinators at 617-638-7800 or 617-636-1055. To learn more about refractive procedures and the anatomy of the eye, visit the FDA glossary.
Improving the Quality of Your Vision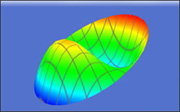 The main benefit of wavefront-guided Custom surgery is that can improve not only how much you can see, but also the overall quality of your vision. Though vision is typically measured on a 20/20 chart, even having 20/20 vision does not necessarily mean perfect vision, as some patients may still experience some visual distortions, known as higher-order aberrations. These aberrations cause problems with contrast sensitivity and night vision distortions such as glare and halos.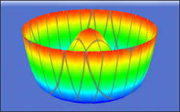 Patients who undergo Custom surgery not only have a better chance of achieving vision that is 20/20 or higher but also have an improvement in contrast sensitivity and night vision quality.
General Considerations
Most individuals but not everyone is a good candidate for wavefront-guided Custom surgery. Our Refractive Vision Correction Center in Boston will evaluate factors such as degree and type of refractive error and the thickness and shape of your cornea to determine which refractive surgical procedure is specifically best for you.
Wavefront-guided Custom iLASIK is often an ideal procedure for patients who have visual problems that are unusual or difficult to correct through other methods.
For patients who are not candidates, we also perform a comprehensive array of alternative refractive surgical procedures such that most everyone can be offered the procedure that is optimal for their individual situation.
The NEEC Refractive Vision Correction Center is not a single-procedure laser-only practice. By having the capability and familiarity with all modalities of refractive surgical vision correction, our broadly experienced refractive surgeons offer each and every patient the optimal solution to their vision correction problem and situation.
Contact our laser eye surgery practice to set up a custom wavefront consultation. With an office in Boston, we are conveniently located for many residents of Massachusetts, New Hampshire, and surrounding areas.
LASIK FAQ's