LASIK Boston
Choose the best LASIK Surgeons in Boston!
Deciding on the vision correction procedure that is right for you will be one of the most important decisions you will make in a lifetime. At the New England Eye Center, our trained refractive team will discuss the many options available for your unique vision status, and help you compare the differences in relation to your visual and lifestyle needs. We give the Boston and surrounding areas premier LASIK services that will take away the need for glasses and contacts. 
What is LASIK?
LASIK (laser-assisted in-situ keratomileusis) is the most popular and highly effective laser procedure used to correct nearsightedness, farsightedness, and astigmatism. It is a procedure that permanently changes the shape of the cornea, the clear covering of the front of the eye, using an excimer laser. By reshaping the cornea, light is able to enter the eye and focus properly onto the retina. LASIK is a relatively pain-free procedure and takes approximately fifteen minutes per eye. During surgery, topical anesthetic drops are applied to the surface of the eye and a lid holder is gently placed in the eye to keep you from blinking. The surgeon will then use a laser to create a thin circular opening/flap, about the thickness of a strand of hair. Once this opening is created, the surgeon will proceed to fold back the flap to access the underlying cornea. Using a highly specialized cool beam excimer laser, the surgeon then removes a small amount of tissue to precisely reshape the cornea. After reshaping the cornea, the flap is replaced and serves as a natural bandage. Most often both eyes are treated on the same day and there is little to no discomfort. Stitches are not needed and visual recovery is very quick. In as short as 24 hours, patients can enjoy clearer vision.
LASIK FAQ's
At New England Eye Center's LASIK Clinic, you will find a comprehensive set of LASIK services. Our goal is to create individualized care plans for all patients so that they can achieve their best visual outcomes. The combination of very experienced doctors and staff combined with advanced technological systems and LASIK surgery techniques result in excellent patient satisfaction.
We offer a wide variety of services to suit everyone's needs:
PRK
LASIK
Laser vision correction
Refractive lens exchange
Laser Cataract Surgery with advanced lenses
CK for reading vision
Intacs for Keratoconus
Dry eye treatments
Dr. Helen Wu is a well-known LASIK surgeon that is respected in her field and often is chosen to pioneer sophisticated new lenses. Many cataract surgeons are not certified to offer a wide range of surgical techniques and premium lens offerings that Dr. Wu is able to utilize in her practice:
PanOptix® TriFocal Lens Implant 
Symfony and Symfony and other advanced Toric lenses for cataract surgery
Contoura® custom LASIK
Trulign™ Toric cataract surgery lens for astigmatism and ability to see near and far
Visian ICL® –implantable contact lens
To learn more about New England Eye Center and its services, you may also visit www.neec.com or call one of our vision care coordinators at 617-638-7800 or 617-636-1055. To learn more about refractive procedures and the anatomy of the eye, visit the FDA LASIK glossary.
Blade-Free LASIK
Contoura™ Custom LASIK and Blade-free LASIK for Enhanced Vision Service
Although conventional LASIK eye surgery has helped millions of people achieve clearer, sharper vision, many potential patients have avoided surgery due to fears about the mechanical blade that was used in the first step of LASIK. Dr. Helen Wu now offers blade-free custom LASIK at our refractive surgery center. Through the use of ultra-precise lasers and advanced computer software, our patients can now undergo safe, effective vision correction surgery without the risks associated with a mechanical blade. Our patients are experiencing high satisfaction with their visual outcomes. While some patients still report experiencing night vision changes or dry eyes post-operatively, the symptoms are less significant than they were prior to surgery and tend to decrease over time.
Mapping the Eye
Prior to surgery, the Wavelight Topolyzer VARIO is used to map the cornea and enables visualization of vision defects that are unique to each patient's eye. These defects, or aberrations, can cause vision problems such as halos or glare even when a patient's visual acuity is 20/20. The refractive surgery team enters data from the testing equipment into the computer that guides the excimer laser. Topography-guided imaging can help the surgeon correct for aberrations and achieve a better result.
Femtosecond Blade-Free Technology
The outstanding results and safety of blade-free LASIK are due to the Wavelight®FS200 technology. The system consists of two components: the software and the extraordinarily precise femtosecond laser. The first step of LASIK surgery is the creation of the corneal flap. A femtosecond laser uses energy pulses to create tiny bubbles of air and water to separate the corneal tissue without the use of a blade. The high-speed laser accomplishes flap creation in about 20 seconds.
Why Choose Blade-Free LASIK?
Blade-free technology is more comfortable and safe for the patient.
Some of its specific advantages are:
The ability to program corneal thickness enables more patients to have LASIK
A decrease in dry eye symptoms
A decrease in corneal abrasions and epithelial ingrowth
Better positioning of the corneal flap leads to faster recovery
Excimer Laser Technology
In the second step of LASIK, the surgeon lifts back the corneal flap to access the deeper corneal tissue. Dr. Wu uses the Wavelight ® EX500 excimer laser to reshape the corneal contour. The Contoura system incorporates the information from testing and mapping to guide the laser with great precision. This eliminates refractive (focus) errors and ocular surface irregularities.
Advantages of New Excimer Laser Technology
Technology has advanced and improved the safety, efficacy, and predictability of corneal surgery. The excimer laser is now so advanced that it can treat nearsightedness, farsightedness, astigmatism, and a combination of the three. Dr. Wu chooses to use the most advanced excimer laser with a wide range of FDA approvals in order to offer her patients a truly customizable procedure. The time has never been better to have a LASIK or PRK procedure!
Custom Wavefront and Topo Guided LASIK
If you are interested in receiving vision correction that is tailored to your individual needs, you should consider undergoing custom wavefront LASIK surgery at our laser facility in Waltham. Wavefront-guided and now Wavefront Optimized are both available to patients. Custom iLASIK™ and Custom Contoura LASIK go beyond traditional LASIK.
Contoura Custom LASIK is Wavefront Optimized LASIK using detailed measurements of the curvature of the front surface of your eye, preserving the natural aspheric shape of your cornea. Preserving the cornea's natural shape reduces the risk of a higher-order aberration called spherical aberration, which can occur naturally in an eye or can be caused by other types of laser vision correction procedures. Spherical aberration often causes halos around lights and other night vision problems. Contoura Vision is a topography-guided LASIK treatment designed to provide surgeons the ability to perform more personalized laser procedures for patients with nearsightedness, or nearsightedness with astigmatism, based on the unique corneal topography of each eye. In 2014, more than 630,000 LASIK procedures were performed in the US alone. The goal with any of the procedures we offer to our patients in Boston is to provide the best procedure for your unique visual and lifestyle needs with the least risks and most benefits. Our services go well beyond laser vision correction. FDA-approved wavefront-optimized LASIK systems include the WaveLight Allegretto Wave Eye-Q Excimer Laser System (Alcon).
Improving the Quality of Your Vision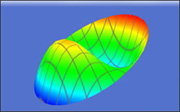 The main benefit of wavefront-guided Custom LASIK surgery is that can improve not only how much you can see, but also the overall quality of your vision. Though vision is typically measured on a 20/20 chart, even having 20/20 vision does not necessarily mean perfect vision, as some patients may still experience some visual distortions, known as higher-order aberrations. These aberrations cause problems with contrast sensitivity and night vision distortions such as glare and halos.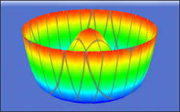 Patients who undergo Custom LASIK surgery not only have a better chance of achieving vision that is 20/20 or higher but also has an improvement in contrast sensitivity and night vision quality.
General Considerations
Most individuals but not everyone is a good candidate for wavefront-guided Custom LASIK surgery. Our Refractive Vision Correction Center in Boston will evaluate factors such as degree and type of refractive error and the thickness and shape of your cornea to determine which refractive surgical procedure is specifically best for you.
Wavefront-guided Custom iLASIK is often an ideal procedure for patients who have visual problems that are unusual or difficult to correct through other methods.
For patients who are not LASIK candidates, we also perform a comprehensive array of alternative refractive surgical procedures such that most everyone can be offered the procedure that is optimal for their individual situation.
The NEEC Refractive Vision Correction Center is not a single-procedure laser-only practice. By having the capability and familiarity with all modalities of refractive surgical vision correction, our broadly experienced refractive surgeons offer each and every patient the optimal solution to their vision correction problem and situation.
Contact our laser eye surgery practice to set up a custom wavefront LASIK consultation. With an office Boston, we are conveniently located for many residents of Massachusetts, New Hampshire, and surrounding areas.