Open Your Eyes to a Number of Possibilities
As New England Eye Center has grown throughout the years to adapt to advancing technology and innovation, we have sought out techniques with which we can improve your experience and your results. Our integration of Visian ICLs® into our practice demonstrates our commitment to providing the highest-quality, patient-specific care. We offer Visian ICLs® at our Boston office in order to give our patients yet another way to dramatically and permanently improve their vision.
Designed to improve vision in patients who suffer from myopia, or nearsightedness, Visian ICLs® are sought after for the high-quality results they produce. If you are interested in learning more about the Visian ICL® or are ready to schedule your first consultation, please contact our Boston practice today.
Understanding the Procedure
The short, 15-minute outpatient procedure performed to insert Visian ICLs® involves several important steps. About two weeks prior to your procedure, one of our doctors will make a few small openings at the edge of your iris (the colored part of the eye) that will allow fluid to circulate around the lens. You will be prescribed eye drops to be used in the weeks leading up to the procedure.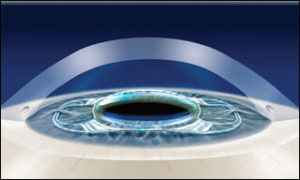 On the day of the surgery, a number of anesthetic options will be available, all of which make the procedure virtually painless. Depending on your individualized care plan, your doctor may use anesthetic drops, topical anesthesia, or sedatives to make your experience easier. Once you are comfortable, a few small openings through which the lens will be positioned will be created at the base of your cornea.
A gel-like protective substance will be placed on your eye to avoid extraneous damage during lens placement. A small incision will be made through which the lens will be inserted and unfolded to fit behind your iris, where the Visian ICL® will become indistinguishable from your natural lens.
Our Boston facility utilizes the most advanced technologies in order to make this process as straightforward and safe as possible. At the New England Eye Center, we pride ourselves on the quality care we provide, the comfortable atmosphere in our office, and the amazing results you will experience. We will send you home with immediately improved vision and the promise to follow-up with you within 24 hours to ensure that your recovery process is going well.
Am I a Candidate?
Visian ICL® is designed for patients between the ages of 21 and 45 who suffer from moderate to severe nearsightedness (myopia). Good candidates for this vision correction procedure generally have not seen a change in their vision prescription in the last year, are not currently pregnant, do not suffer from allergies to any of the medications required to perform the procedure, or have been disqualified for LASIK because of dry eyes, severe myopia, or insufficient corneal thickness.
Learn More about Visian ICL®
Visian ICLs® at our Boston practice has given hundreds of our patients the opportunity to see more clearly than they ever have. You can have the same opportunity when you contact our laser eye surgery practice today to schedule your first consultation.